IBC part of General Motors, manufacture the Vauxhall, Opel, Nissan and Renault van range for Europe.  The IBC Luton van production plant is one of the most successful automotive plants in the UK, and have just launched the new Movano range across Europe..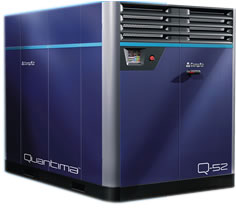 When IBC existing CompAir compressors were due for upgrading, IBC wanted an efficient and reliable Air Compressor system; only Quantima was able to offer the energy savings required.
Having originally supplied IBC with their original air compressor system, IBC needed to work with a supplier who understood their requirements, and could provide the ongoing service support.
J & J Pneumatics were pleased to have been selected for the contract, which was due to the unique energy efficiency capability of the Quantima; the lowest running costs, customer service, and meeting the project budget.
The Quantima offered IBC the most energy efficient compressed air solution available, and utilises aerospace technology, compressing air at sub critical speeds of up to 59,000 rpm.
Ultra Efficient Quantima
Delivers world class performance and reliability
Predictive maintenance via remote monitoring
Peace of mind and zero risk
Single fixed cost
The simplicity provided by Quantima's™ innovative technology delivers minimum downtime and world class reliability – not only saving money on maintenance but also providing peace of mind and zero risk.
The Quantima™ range of oil free centrifugal compressors offers outstanding efficiency, reliable and cost effective operation and small environmental footprint making it the ideal choice whatever your application.  The emissions savings from a Quantima air compressor is equivalent to planting 16,000 trees.