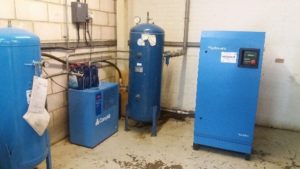 Renowned manufacturer of specialist quality furniture in the Chilterns and an existing client of       J&J Air Systems required to upgrade their Compressed Air System.
The existing compressor unit was upgraded to a new Gardner Denver Hydrovane HV11RS Variable Speed Air Compressor unit which provides a significant energy savings over the customer's previous unit, and is quieter running, Compact footprint:- taking up less floor space.
The British designed and manufactured Hydrovane not only out performs the customer's previous unit but also comes with 2000 hour service intervals. The Hydrovane unit benefits from a 10 year Advanced Air End warranty, for total peace of mind.
J&J Air Systems were the chosen supplier due to the established relationship with the customer over many years, and J&J's recommendations to improve the customers system with a more efficient, economic and reliable unit.