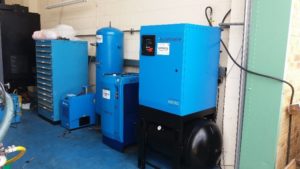 A family run precision engineering company based in the Chilterns for 40 years and an existing client of J&J Air Systems required to upgrade their Compressed Air System.
The customer manufactures precision engineered parts with an experienced workforce utilising state of the art CNC 4TH Axis capability, Lathes and Milling machines. Critical to the production processes was an economical, clean and reliable supply of Compressed Air.
With a varying demand between different machine tools, we specified a variable speed Air Compressor to maximise efficiency, whatever the demand.
The existing Hydrovane compressor unit was upgraded to a new Hydrovane HR07RS regulated speed Compressor unit which provides a significant efficiency improvement at varying outputs over the customer's previous unit, and is quieter running.
The British designed and manufactured Hydrovane not only out performs the customers previous unit but also comes with 2000 hour service intervals, and a 10 year Advanced Warranty.
J&J Air Systems were the chosen supplier due to the established relationship with the customer over many years, and J&J's recommendations to improve the customers system with a more efficient, economic and reliable unit.