The CompAir (Reavell) V-Compact is a free standing, single acting, lubricated or oil free unit set on anti-vibration mounts and is suitable for air cooling. Pressures range from 5 to 10.5 bar g, and power from 18 to 75 kW. Units are suitable for operating in ambient conditions up to 55°C.
Free air delivery at stated working pressure and measured and tested in accordance with ISO 1217 Ed. 4 Annex C (fixed speed) & E (variable speed), at the following reference conditions:
Air intake pressure : Ambient
Air intake temperature : 20ºC
Noise level ± 3 dB(A) according to ISO 2151.
CompAir V150DA Specifications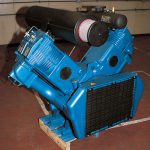 Model:
V150DA
Hz:
50
Brand:
CompAir Reavell
Series:
V-Compact
Description:
Oil-free Piston Compressor
Gas Compressed:
Air
Output Free Air Delivery at
Rated Pressure (m3 per min):
4.17 to 4.23
Motor Output (kW):
30 to 37
Length (mm):
1715
Width (mm):
1460
Height (mm):
1220
Compressed Air Outlets (Inches):
BS10 Table (Inches)
Delivery:2″ 'F'
Weight (Kg):
594
Speed (rpm):
1460
Cooling System:
air cooled