CompAir R Series Oil Free Compressors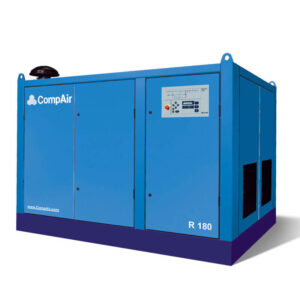 Piston compression is known for its excellent energy efficiency, and CompAir has consolidated and at the same time consistently developed this proven technology to maintain its cutting edge. High-quality, robust construction along with excellent efficiency means that payback times are short. With its long economic life cycle, The R-Series continues to supply affordable compressed air, year after year.
Benefits of the R Series
Potential energy savings of up to 20%
Robust and durable technology
High reliability
Easy to maintain
High quality oil-free air
Comprehensive electronic control
Open or with noise-reduced housing

 Download the CompAir R Series Compressors PDF.
R Series Design
The design of the double-acting high-performance piston compressor brings about a big reduction in electrical input power, at both full and half load. Rapid switching from full load to half load and back again ensures a flexible response to compressed air demand and a low pressure difference in the network. At the same time off-load losses are minimised, at just 8-9% of generating capacity in the case of piston compressors. The significant energy savings result from the low input power at full load, the narrow pressure band and the low off-load losses.
Being wired ready for connection the units are easy to install and require no additional foundation.
Model
R80
R100
R135
R180
Cooling method
Water
Water
Water
Water
Operating pressure[bar g]
04-Oct
11-Dec
04-Sep
10-Dec
04-Dec
04-Jul
08-Dec
Motor power[kW]
45
55
55
75
75
90
110
Volume flow, max.1[m3/min]
8
10
13.3
18.1
Dimensions excluding housing
Dimensions L x W x H[mm]
1662 x 1630 x 1364
1796 x 1630 x 1364
1939 x 1835 x 1544
2021 x 1835 x 1553
Weight[kg]
1650
1815
2480
2760
Noise level2[dB(A)]
79
79
83
83
Dimensions including housing
Dimensions L x W x H[mm]
2766 x 2016 x 1860
2766 x 2016 x 1860
2766 x 2016 x 1860
2766 x 2016 x 1860
Weight[kg]
2750
2915
3580
3860
Noise level2[dB(A)]
69
69
73
73
No products were found matching your selection.