Parker has been manufacturing for 50 years in the UK, providing quality services and products to its customers and to other companies through its strong, professional customer network and Technology Centres.
To meet its customers' needs in motion and control, Parker provides the broadest range of Pneumatic Hydraulic and Filtration products available from any single supplier. This is supported by expertise in 7 additional major technologies: electromechanical, process control, fluid and gas handling, sealing and shielding, climate control and aerospace.
We believe in partnership with our customers so we can provide them with solutions which help achieve higher levels of productivity and profitability by engineering the best systems for their requirements. We look beyond parts and components to develop complete system solutions; We offer value added services, including on site advice, technical assistance, design and support.
Parker Store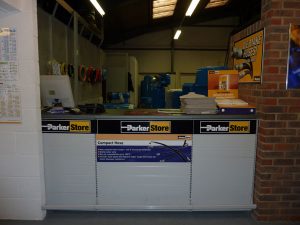 For many years we have had a trade counter where our customers have purchased from our stock in High Wycombe, this is also branded a Parker Store where we hold many of the most common items required in UK industry.
Downloads
Parker Store
We are an accredited Parker Store: