CompAir V Major Series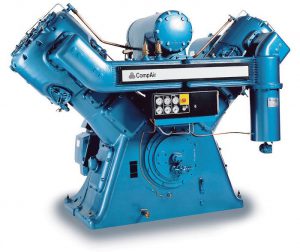 The CompAir V-Major compressor is a slow speed, double acting, water cooled design – lubricated or oil-free, and available for pressures from 1.5 to 20.5 bar g, and power from 90 to 315 kW. CompAir reciprocating compressors have been in production since the 1920's with a policy of constant improvements in design and materials.
Many thousands are in service around the world, providing long term, reliable, energy efficient compressed air in every industry and environment. With over twenty models available, the V-Major and V-Compact have the versatility to meet a wide range of applications.
Oil-free Option
Available with oil free cylinders for applications where oil cannot be tolerated in the gas or air being compressed. Extended piston rods have non-lubricated packings and self-lubricating PTFE piston rings run in corrosion resisting, replaceable, authentic iron cylinder liners.
Efficient Regulation
The V-Major has three step regulation for full, part, or no load operation to reduce part load power consumption.
Suitable for high-ambient temperatures
These robust compressors work equally well in ambients of up to 55oC. The V-Major is equipped with water jackets and intercoolers to maintain correct running temperatures. Closed circuit cooling systems can be provided for locations where cooling water is not available.
Available Options
Vee belt driven
Direct coupled motor
Suitable for gases other than air
Custom built packages / specifications

Click to download the CompAir V Major and Compact Sales PDF.


Click to download the CompAir V Major and Compact Datasheet PDF.
The V Major series has now been superceded by the WH35 series.
No products were found matching your selection.