CompAir V Major Series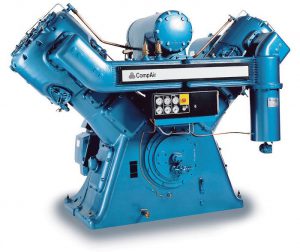 The CompAir V-Major compressor is a slow speed, double acting, water cooled design – lubricated or oil-free, and available for pressures from 1.5 to 20.5 bar g, and power from 90 to 315 kW. CompAir reciprocating compressors have been in production since the 1920's with a policy of constant improvements in design and materials.
Many thousands are in service around the world, providing long term, reliable, energy efficient compressed air in every industry and environment. With over twenty models available, the V-Major and V-Compact have the versatility to meet a wide range of applications.
Oil-free Option
Available with oil free cylinders for applications where oil cannot be tolerated in the gas or air being compressed. Extended piston rods have non-lubricated packings and self-lubricating PTFE piston rings run in corrosion resisting, replaceable, authentic iron cylinder liners.
Efficient Regulation
The V-Major has three step regulation for full, part, or no load operation to reduce part load power consumption.
Suitable for high-ambient temperatures
These robust compressors work equally well in ambients of up to 55oC. The V-Major is equipped with water jackets and intercoolers to maintain correct running temperatures. Closed circuit cooling systems can be provided for locations where cooling water is not available.
Available Options
Vee belt driven
Direct coupled motor
Suitable for gases other than air
Custom built packages / specifications
---
Sales Support
We stock a comprehensive range of British and German manufactured Air Compressors and associated equipment for all applications and budgets. Our technical support team (with 200 + years combined experience) will assist you to select the right equipment to suit your needs, specification and technical requirements. We advise on the supply of standard and high pressure Industrial Air Compressors; Lubricated and Oil-Free, and Medical systems to HTM02-01. Capacities up to 2000 cfm - 56m³/min.
Please contact our Technical Sales Office to discuss your requirements and for budget prices.
 0800 027 8442
Or send your enquiry to [email protected]
Technical Support
If you are planning a new project, require guidance on selecting equipment, or need to discuss any general or technical issues you may have with your existing Compressed Air System, our experienced engineers are here to help and assist you. We cover all aspects of specifying new projects, to the supply of Air Compressors and ancillary equipment through to installation, and on-going maintenance and support. We also provide Energy Efficiency and Leak detection reports to ISO500001, Energy Saving & Heat Recovery Systems, i-Conn Remote Data Monitoring & Reporting, and Smart Air™ Controls.
Please contact our Technical Support Team for technical assistance or to arrange a site visit.
 0800 027 8442
Or send your enquiry to [email protected]
Service Support
Correct scheduled servicing will save money through increased productivity, efficiency and reliability. Our Service Team operate 24/7 365 Days a year providing Scheduled or Breakdown Service Support to manufacturing industries and utility services. Should in the unlikely event you have a Compressor breakdown or service issue, we have the resources, manpower and equipment to get you up and running quickly. We run a Hire fleet of electric and diesel portable Air Compressors for Emergency Hire. Additionally Air Quality testing to Breathing Air Standard BS4275, PSSR2000 System Compliance, Leak detection reports to ISO500001, and we are licensed by the Environment Agency (CBDU209861) for removal of waste oil and filters from your site. All our engineers are fully Compair Hydrovane Champion works trained and operate to strict Health and Safety standards and we are externally audited to ISO9001-2015 Quality Standards.
Please contact our Service Support Team for assistance.
 
01494 530291
24 Hour Emergency Breakdown Service
Or send your general enquiry to [email protected]

Click to download the CompAir V Major and Compact Sales PDF.


Click to download the CompAir V Major and Compact Datasheet PDF.
The V Major series has now been superceded by the WH35 series.
No products were found matching your selection.